Rx for Murder
Book 1 of the Rx Series
Ruthie Kantor Morris, pharmacy manager at a supermarket in Scottsdale, Arizona, is shocked when customer Harry Stokes dies. A gentleman in his sixties, and one-time object of Ruthie's daydreams, Stokes had recently married a woman younger than his grown children, relying on hormones to bridge the age gap.
Suicide is the first assumption but, as Harry's pharmacist, Ruthie is convinced that theory is wrong. Now, Harry's children claim that his widow killed him to inherit the sizable estate. Suddenly everyone is demanding to see the Stokes prescription records. Ruthie's refusal to violate professional ethics shifts family suspicion from the young wife to the pharmacist herself. These hot-tempered reactions are not surprising in Scottsdale in August where 110 degree temperatures are the norm and where air-conditioning and backyard swimming pools provide the only relief.
When Ruthie does go over the prescription records with a Scottsdale police detective, she makes a startling discovery, eventually realizing that the motive for Harry's death is buried in the records. Can she unmask the murderer before she becomes the next victim?
An authentic behind-the-scenes look at a pharmacy and a clever and charming heroine make this first novel in the Rx series a fascinating mystery of manners.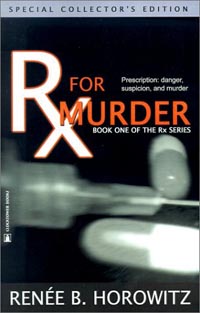 Available in Paperback at Amazon.com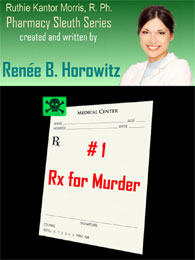 Also available on eBook at Smashwords (Multiple formats)
Other eBook sites: Amazon (Kindle), Sony (ePub) and Barnes and Noble (Nook)